Some characteristics of dry skin are:
Finer near invisible pores
Dull, rough complexion
Red patches
Skin is less elastic
Your skin can easily crack, peel, or become itchy, irritated, or inflamed. If it's very dry, it can become rough and scaly, especially on the backs of your hands, arms, and legs. Dry skin types are also prone to eczema.
Dry skin can be worsen by aging or hormonal changes, weather changes, indoor heating, long, hot baths and showers, harsh and stripping ingredients in soaps, cosmetics, or cleansers.
Most acne sufferers have the oily skin, but some do develop acne with dry skin. Prescription acne medication isotretinoin can cause extreme dry skin as a common side effect.
Recommended skinB5™ products to help you manage acne prone dry skin:
Use Step 1 vitamins at a starting dosage 1 tablets twice daily + skincare and booster products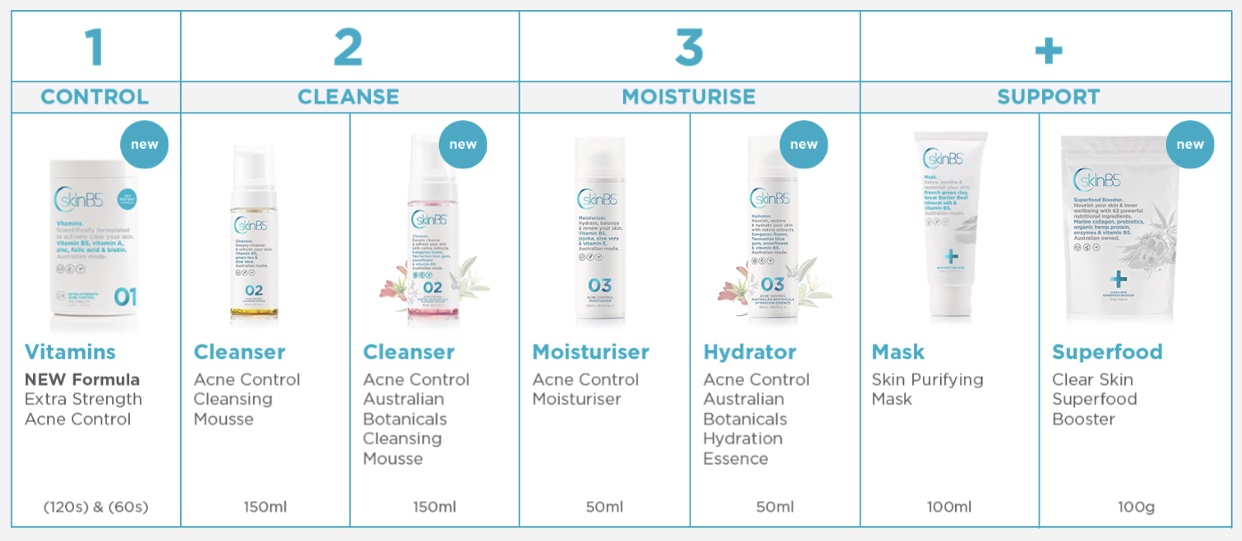 Skincare and beauty hacks for dry skin:
Avoid harsh, stripping cleansers or soap.
Stay clear of common skincare ingredients such as SLS, acids, peroxides, alcohol.
Use gentle cleansers, evenings only - in the morning your skin is not dirty so simply cleanse with clean water and pat dry.
Do not use exfoliators or scrubs if you have active acne lesions - it will cause further damages to your skin.
Use a French green clay mask no more than once a week.
Apply 2-3 drops of skin oil like jojoba after applying a skin hydrator to prevent clog pores.
Add a higher potency fish oil and/or Evening Primrose oil to your daily nutritional supplementation.
Avoid a low fat diet - an extreme low fat diet may lead to dry skin.
Use an indoor humidifying during dryer seasons.
Get in touch with skinB5™ clear skin experts via Instagram, Facebook or email help@skinb5.com if you need personalised advice.