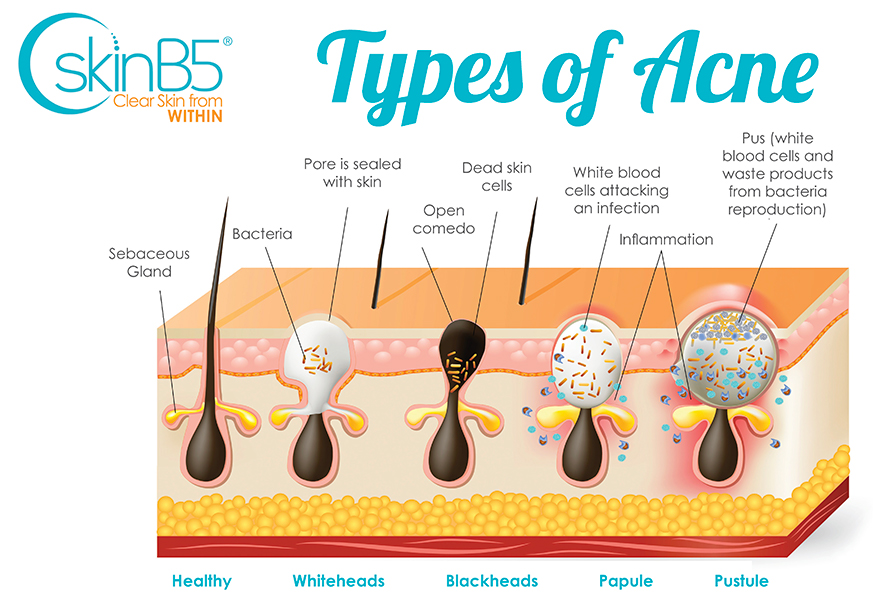 YES!  Blackheads and Whiteheads are a type of acne.
SkinB5 works to treat acne including blackheads, whiteheads, pimples, zits, breakouts and blemishes. . SkinB5's key function is to normalise skin oil production (as well as strengthening the immune system and reduces stress which are other key contributors to acne).
If you have severe blackheads and whiteheads, start with the Extra Strength Tablets, take it at therapeutic dose (6 tablets a day) up to 4 months then you can reduce dosage to 3-4 tablets a day for a month before taking Caplets for maintenance. 
If you only have mild blackheads and whiteheads, use the Caplets product.
If you take a small dose of SkinB5 long term as part of your daily health and beauty routine, overtime, you will notice that your skin will look more refined (due to reduction of acne, blackheads and whiteheads).
Our topical products have been designed to enhance the skin clearing and pore refining effects of our internal nutritional formulations. We highly recommend the Skin Purifying Mask with French Green Clay to clean out the pores. You will see noticeable reduction in the appearance of blackheads even after one application.