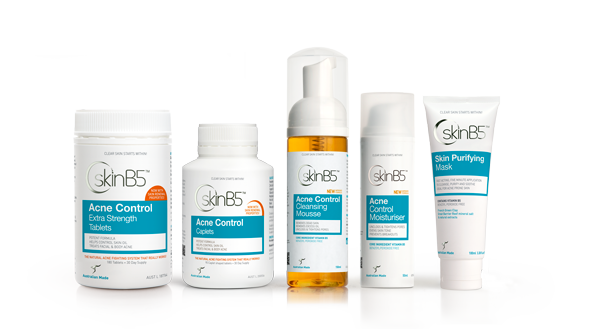 SkinB5 is a powerful acne control product that is proven amongst majority of users to help effectively clear acne.  However, SkinB5 is not an overnight wonder - it is a proprietary nutritional specifically designed to clear acne effectively - therefore you will need to take SkinB5 diligently and correctly at the full treatment dose for at least 8-10 weeks.
Click here to view our product table to help you select the correct products for your acne breakouts.
View this YouTube video to find out the difference between SkinB5's Extra Strength Tablets and Caplets 
Using SkinB5 Tablets along with the SkinB5 Cleanser, Moisturiser and Mask produce optimal results because our products are designed to work together to fight acne inside and out. All our skincare products have Vitamin B5 and other skin healing ingredients to enhance acne clearing effects and speed up healing. Our products also do not contain any harsh chemicals, artificial fragrances nor other irritating ingredients like in other acne products which actually makes your skin worse.
The Extra Strength Tablets should be taken as Step 1, first to control and clear acne (together with the cleanser, moisturiser and mask to help calm down inflammation and heal the skin).
Continue this routine for 3-6 months until your acne is under control.
The Caplets is a milder dose of acne-fighting ingredients, and can be used in place of the Extra Strength Tablets when your skin is clear, and you use the Caplets to prevent future breakouts and keep your skin clear and acne-free.
Be patient and diligent, and make sure that you take the full treatment dose of 6 Extra Strength Tablets a day to start to control and clear acne.